Pay with Bitcoin or Altcoins
In our eyes Bitcoin and other Altcoins are the future of online payment! It makes it possible to transfer money quickly to everyone around the world. This means no more waiting time for international payments. This can greatly speed up the process of your order!
You can easily pay with Bitcoin or Altcoins with this payment solution. We use a special innovative payment solution for paying in more than 50 cryptocurrencies. You simply choose the currency you want to pay with and then see a QR code and address where you can send your coins. You can do this from your own favorite Crypto Wallet!
The following Cryptocurrencies can be used to pay:
Example payment with Bitcoin or Altcoins:
We give you a step by step example how you can pay with our Bitcoin & Altcoins service:
1) Choose our Bitcoin & Altcoin payment method
You can do this in our shopping cart.
2) Choose the Bitcoin or Altcoin you want to pay with
Choose the Cryptocurrency that you own! What is your favorite Cryptocurrency? You can choose between 50 different coins!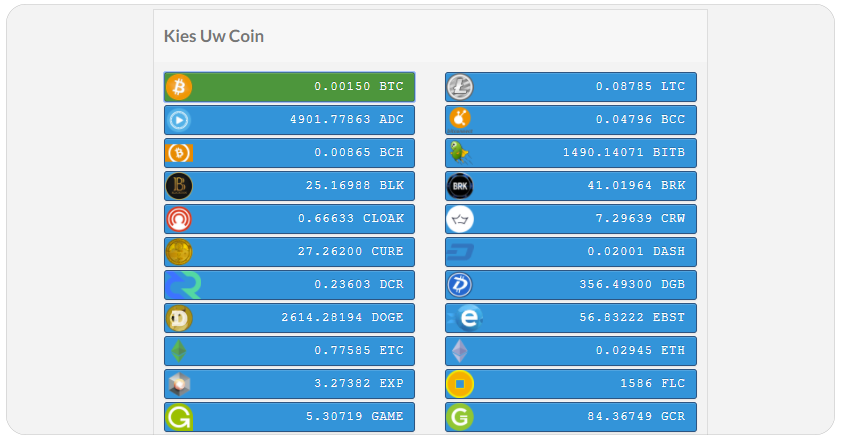 3) Use the Address or the QR Code to send your coins from your favorite Wallet. Note: always double check the address before you send the money.
3.1)  Send X.XX [Bitcoin / Altcoin] to address [the given address]. (Make sure you send enough to cover the costs of a coin transaction!). This varies per coin. Check this carefully before sending your coin! In most cases you can find the transaction fees in your own wallet. You will have to start the payment with your software or online / offline wallet and copy and paste the address and the payment amount. We will send you an e-mail when we have received it. You have 2 hours, 59 minutes and 28 seconds to send the amounts. If you send money that is not confirmed before the time-out or if you do not send enough coins, you will receive an automatic e-mail within 8 hours to claim your money. If you do not receive the e-mail, please contact us with the information below and CoinPayments.net will send you a refund:
    i) The transaction ID: CPBL5N5URLLSZGO5BBX8H1QD
    ii) A payment address to send the money to.
    iii) This verification code: [see payment page for QR and Address code] (to check if you are the sender of the transaction.)
3.2) You can find the status of your transaction on the page where the QR Code and Address are indicated. Once the payment has been confirmed several times in the blockchain, the payment is completed and the seller receives a notification. The status page is available for the next 30 days. The fastening process usually takes 10-45 minutes, but varies based on the target time of the coin and the number of required blockages.