5% CBD Oil Extract
We set our bar high for the quality of our CBD oil – we ensure a clean extraction, purity, and we keep the taste as neutral as possible so that everyone can enjoy it. Our organic CBD oil is extracted from potent, beautiful plants grown on organic soil, and every batch follows a controlled processing system to guarantee the highest quality.
Everyday CBD 10ml CBD Oil 5%
We provide cannabis extracts that are 100% organically grown and made from hemp that is EU-certified. The THC value in our CBD oil is less than 0.2%, which means our oil has no psychoactive effect and cannot result in the feeling of "high". For that reason, our CBD oil can be used for health reasons, as a supplement, or for specific complaints.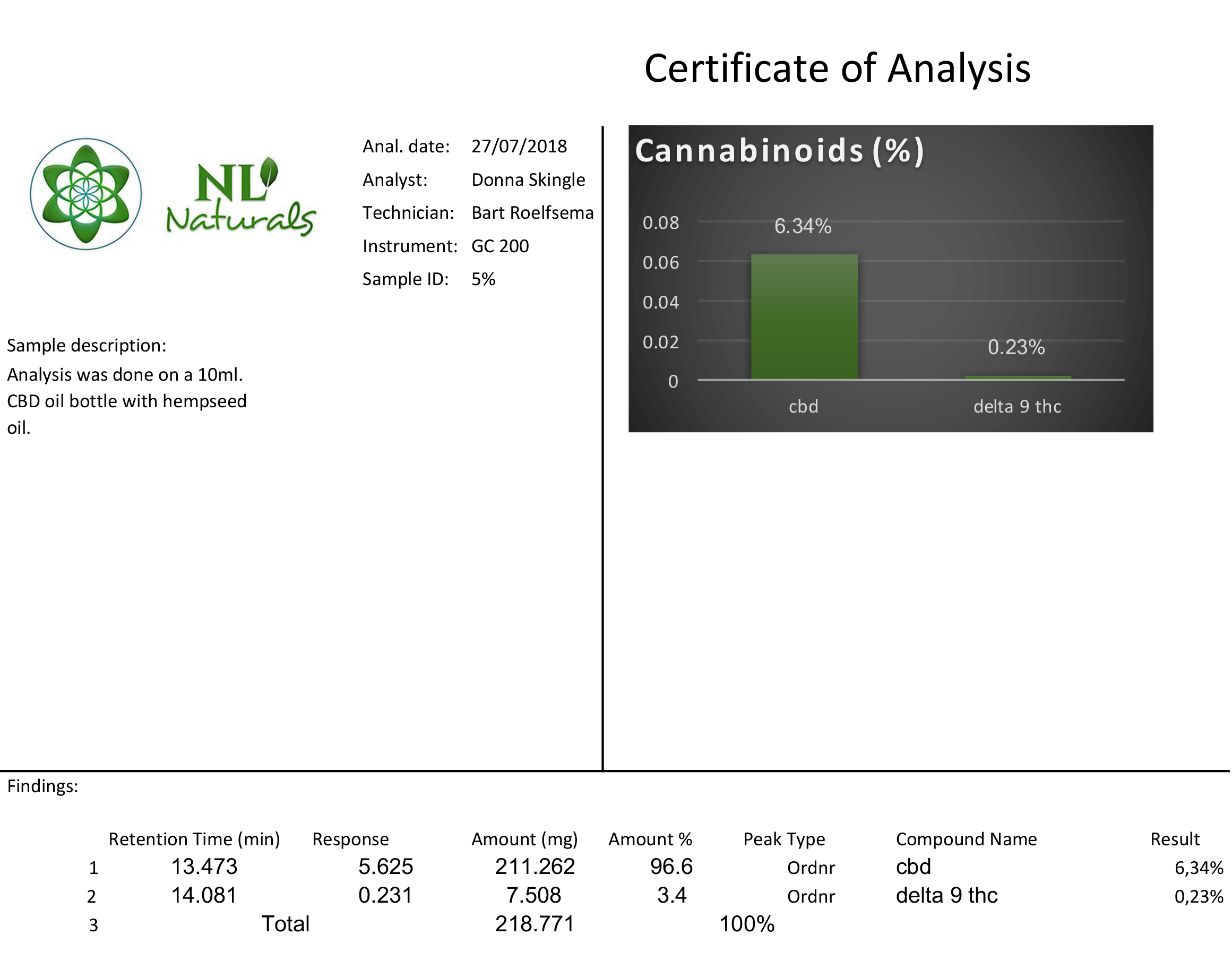 Our oil is tested by a professional laboratory after every batch to ensure there is no contamination of other substances that shouldn't be in the CBD oil. Therefore, we can guarantee our CBD oil to be free of pesticides and other waste, and this can be visible in our test reports. During these tests the different cannabinoid percentages are measured, therefore, we can proudly say that it contains what we state on the packaging and our 10ml bottle with 10% CBD actually has 1 gram of CBD in the bottle.
Ingrediets
Cannabis seed oil (NL), Cannabis plant extract (NL).
Contents
Contains 500 mg CBD


Usage
Usage 1 vial of 10 ml. corresponds to +- 200 drops. CBD cannabis oil is completely harmless, even in high dosages. We recommend 1-3 drops per dose 1-3 times a day.
Store in a dark and cool place. Keep out of the reach of children. Consult a physician before using it together with any other medication.