5% CBD Olie CO2 Extractie
Wij leggen de lat voor onze CBD kwaliteit hoog: zo schoon mogelijk, de smaak zo neutraal mogelijk zodat iedereen ervan kan genieten. Onze CBD-olie wordt gemaakt van krachtige en mooie planten die biologisch geteeld worden voor onze olie en ook het verwerkingsproces tot pasta verloopt volgens een gecontroleerd systeem om de kwaliteit te waarborgen.
Everyday CBD 10ml CBD OLIE 5%
CBD voordelen levert cannabis-extracten die 100% biologisch gekweekt zijn en is gemaakt van hennep dat E.U. gecertificeerd is. Dit houdt in dat de THC-waarden minder dan 0,2% zijn en om deze reden heeft de olie geen psycho-actief effect op de gebruiker en kan men niet high of stoned worden van onze olie. Onze olie is om die reden dan ook geschikt om voor gezondheid toe te passen voor uw specifieke klachten. Hierover is online veel te vinden en hier kunt u ook kijken of uw klacht verholpen of verlicht kan worden door het gebruik van zuivere CBD-olie.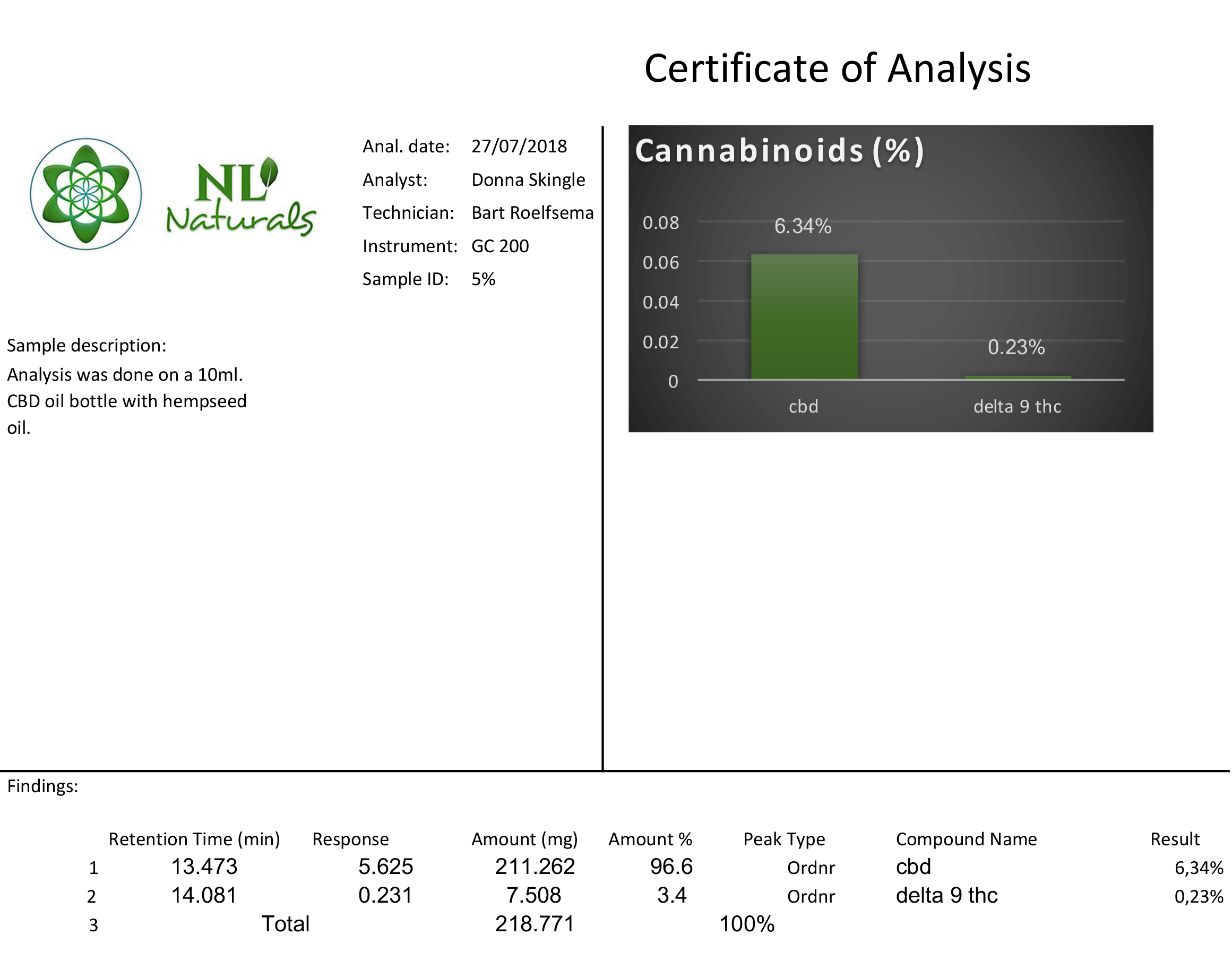 Onze olie wordt na iedere batch getest door een professioneel laboratorium. Tijdens deze testen worden o.a. de verschillende cannabinoïdepercentages gemeten en controleren wij onze olie op mogelijke contaminatie van stoffen die niet in de olie thuis horen. Onze olie is om die reden vrij van pesticiden en andere afvalstoffen en dit is dus zichtbaar in onze testrapporten. Verder kunnen wij met trots zeggen dat er ook daadwerkelijk inzit wat wij op de verpakking vermelden en heeft onze 10ml flesje met 10% CBD ook echt 1 gram CBD in de fles zitten.
Ingrediënten
Cannabiszaadolie (NL), Cannabisplantenextract (NL).
Inhoud 
Bevat 500 mg CBD


Gebruik
1 flacon van 10 ml. komt overeen met +- 200 druppels.
CBD-cannabisolie is volledig onschadelijk, zelfs in hoge dosages. We raden 1-3 druppels per dosis 1 - 3 keer per dag aan.
Donker en koel bewaren. Buiten het bereik van kinderen houden. Raadpleeg een arts voor gebruik in combinatie met medicatie.
| | Unit price | Buy |
| --- | --- | --- |
| — | €17.95 | |
| — | €24.95 | |